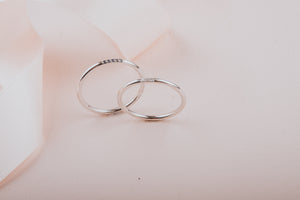 Annika Gustavsson Jewellery
Beautiful and timeless jewellery , sprung from the barren nature of Gotland
Annika Gustavsson started making jewelry in the evenings while pursuing a career in the financial industry. Quite quickly, she realized that she had found her great passion. An inner journey began, which eventually meant that she took the plunge and trained as a jewelry designer and goldsmith. After 4 years of studies in Stockholm and Copenhagen, she opened her own shop and forge in the middle of the world heritage city of Visby in 2014. Here, timeless jewelery is created with inspiration from Gotland's nature with influences from the trend-conscious and relaxed environment in Copenhagen
" Gotland's nature is close to my heart and I can turn to it when I need strength and inspiration. "
Since Annika found her place at the forge bench , she has carefully created several classic collections that have become extremely popular. She focuses on stylish jewelry that can be varied and combined to suit all moments of life . All created with feeling and inspired by the rugged nature of the island - which reminds of the beauty and power of the natural .
Annika also designs and manufactures engagement and wedding rings. Together with you as a customer, she creates a unique ring based on personality, wishes and budget. Her long experience, creative mind and attention to detail result in rings with a wow feeling, regardless of whether you prefer neat and clean or something that takes care of itself. Annika has also produced a collection of fantastic cocktail rings with stones in different colors and shapes . Even these can be created based on just you and your wishes and are guaranteed to make you feel both beautiful, powerful and brilliant!
I was born and raised on Gotland and live in an inspiring environment where I get most of my inspiration for the jewelery collections. The Knappfossil, which is found along the rocky coast of Gotland and was a coral over 430 million years ago, is close to my heart. I have found some beautiful ones that I refined into stylish silver and gold jewellery.