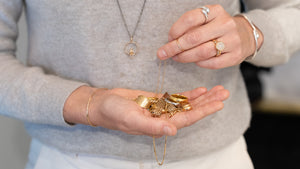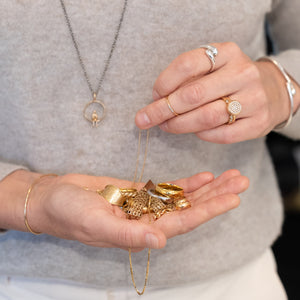 Free valuation & no fees
Welcome to your master goldsmith in Visby on Gotland!
We offer you a simple and safe solution to sell your gold, while giving you the opportunity to renew your jewelry collection or receive a gift card with an extra value.
We only work with recycled gold, which is the most sustainable for the environment.
No fee, Free valuation, 20% more when buying jewelery or gift cards
Our education and experience in goldsmithing gives you the opportunity to sell your gold safely and securely. We help you value what is gold, gilded and different levels in carats from 9-24 carats. As you get more for the gold the higher the carat it contains. We buy all kinds of gold, from inherited jewelry to old gold items.
You then choose yourself whether you want to have the value paid out to your account or pay for new jewelery from us with your gold and then receive a 20% higher value.
Welcome to us at Annika Gustavsson Jewelery where we combine high quality with durability and a personal service.

Here's how to sell your gold with us:
Valuation of your gold: We value your gold by analyzing the carat content and weight, and you receive an offer based on the gold's daily price. We weigh the gold together with you. If you have a lot of gold or there are many customers in the store, we may need to analyze it more securely at a later date after we have weighed it together with you.
Free Diamonds and Gemstones: If your jewelry has gemstones, we can arrange to extract them for a fee in consultation with you when we see that there is value in them. Smaller gems cost more to pick out than their used value. If you choose to rework your gold into something new, we can use your old diamonds.
Payment: You choose whether you wish to use the gold as payment for new jewelery with us, a gift card or paid to your account. We make the payment within three business days of you approving the sale.
Bring: Identification and you need to be at least 18 years old. Also bring your account details if you wish to have money paid into your account.
Right of withdrawal: When you sell your gold, you may regret it, you may still want to keep some of the jewellery. Then you can contact us within 2 weeks. As we do not preserve the gold in our forge, it takes two days for us to bring it back to you.

Do you also buy silver?
We can buy in silver if you have at least 500 grams. We then charge a handling fee of SEK 250.
This routine is subject to the Money Laundering Act, so we will ask certain questions regarding the gold.
Sell ​​your gold to us and get a safe and smooth transaction with Annika Gustavsson Jewellery.
Your Goldsmith in Visby on Gotland
Address: St:Hansgatan 26
Telephone: 0730-60 60 77
Police permit A-522.042/2023